Certified Employment Interview Consultant (CEIC) Course
A one-of-a-kind certification course that will provide you with the tools and ready-to-use materials to begin offering interview coaching within one review.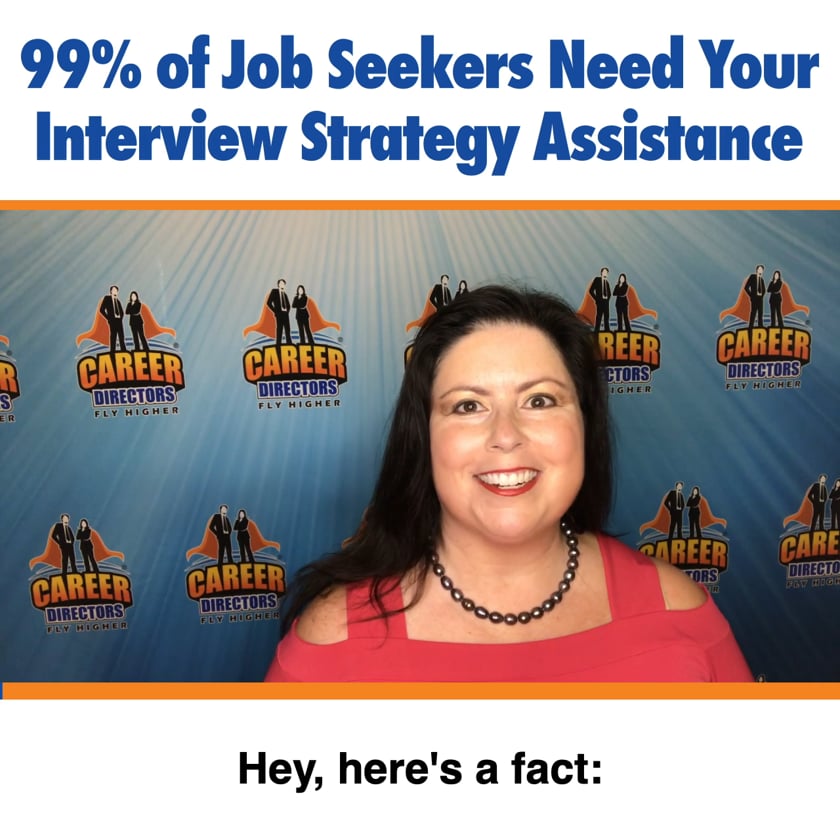 With this course you will:
Gain confidence in virtually all aspects of the interview and salary negotiation process with the most comprehensive resource on the market for up-to-date interview information.
Utilize a turnkey, step-by-step lecture style program complete with done-for-you handouts, worksheets, quizzes and check sheets for your clients. As soon as you read it once you'll be ready to teach, coach, and profit.
Access resources for integrating these services into your program offerings with strategies for pricing, program outlines, sales techniques, and more.
This is going to be EASY for you if you write resumes for a living or are already providing coaching services.
If you can:
Dig out stories that demonstrate challenges, actions, and results for a candidate resume…
Read pre-written scripts and share pre-developed handout materials…
Then you just need this content and infrastructure to be able to step into effectively prepare your clients for the all-important interview, play a greater role in their success, increase your revenue per client, and dramatically boost your profits.
Here are two of my favorite client stories that illustrate just how easy this is.
I was visiting with a member who works with very high-end professionals in an outplacement capacity. Her gross revenue was over $300K at the time. I watched her in her PJs hold her 3-ring CEIC binder on her lap and read directly from it to prepare each executive client she spoke to that day.
The color-coded script content in each module makes it THAT easy.
When I first had the program proofread, the editor who was not a resume writer, came back and said, "From just reading through this program once I feel confident I could stand in front of a group, read from the materials, and no one would ever guess I wasn't a pro".
Yes, I'm not exaggerating, it's really that easy.
I've also worked hard to incorporate all kinds of materials into it so that it's effective whether you are working 1-1 at any level of client, or running a class or workshop.
And, you'll also feel fully supported through the sales process and incorporating it into effective packages that help you earn more per client without adding more and more hours of work to your week.
The program is completely self-study at your own pace. You simply:
Download each of the 18 modules as you are ready, print the material, and place it in a 3-ring binder to begin creating your coaching and training resource manual.
Read the material and submit the assignment for credit via email.
Your mentor will be available via email to answer your questions and provide feedback on your module exercises. Modules range from 3-32 pages, depending on topic. Exercises will take 20 minutes to two hours to complete.
What makes this program so unique is that once you complete the modules, you do not have to worry about how to integrate it or translate it into client and practice value. You are provided with a revolutionary lecture style manual that is color coded to walk you through what to say, what to do, what to hand out or email, and when to do it! It's completely self-contained and effective for all levels of job seekers.
This session is so packed with all the foundation you will need to successfully add interview strategy to your client service offerings! It's not enough to have the material; instead you also need to be able to package it, sell it with confidence, and offer it with brilliance.
In this session we will cover:
Individual and Group Coaching Outlines - pitch these services (and other career offerings) for transition workshops, seminars, or courses.
Components of a Dazzling Trainer - effectively interact with different personality types and their learning styles.
Ice Breakers and Openers - effective activities if you work with particularly challenging populations or are doing groups/workshops.
Course Orientation Process - start a group or individual client off on the right foot to gain and keep attention, trust, and authority.
Program Selling Strategies - effective sales strategies, script, options when they won't buy, packaging, ways to convert one-off clients to groups and ways to get higher-priced individual coaching out of groups, pricing, and incentivizing. This module is worth its weight in gold as you will learn strategies to apply to your entire business!
Bonuses - materials you can use including a PowerPoint Course Presentation and a Presentation for High School Students.
This module provides the elements your clients need to know before they ever get to the interview.
It's a critical starting point to get them off on the right foot. In this module we will cover:
Individual Pre Planning & Preparation Overview - strategies for phone interviews and using voicemail for a positive impression.
Transportation - how it can count against your clients and what they can do.
Wardrobe Planning - basics of preparing clients early on so they aren't surprised later.
Mind Preparation for Stress Reduction - ways to help clients stay calm and shine in the interview.
Job seekers must enter their interviews from a position of confidence, knowledge, and power. One key element to accomplish this is through research on the target company and its key competitors.
Armed with data, your clients will appear savvy, engaged, and interested.  In this module we will cover:
Company Research - why it's a secret weapon for interview success.
Performing Company Research - the what and how of information gathering for companies large and small.
Without pre-planning and preparation most job seekers will wait to prepare for their interviews once they are scheduled. But with telephone interviews they must be able to perform on-demand.
With these tools you can ensure they are ready.  In this module we will cover:
Preparation Quiz - great way for you to help clients assess their true level of preparation.
Telephone Interview Strategy - need-to-know content for confident, controlled telephone interviews.
Let's face it, no matter how good someone is at their job, they just might not be fantastic at interviewing - think shy people, new grads, and engineers who prefer to do and not talk. There IS a way for them (and every other candidate) to truly shine in an interview, and that's with an employment portfolio.
This golden nugget can give all your clients an edge and provide another revenue stream for you to help them put them together. In this module we will cover:
Portfolios - all the elements for assembling a portfolio and then using it effectively in the interview.
Networking Cards - an effective leave-behind item or add-on to the client marketing process.
To nail an interview, your clients have got to look the part. It's not ALL about dark suits and uber professionalism! Understanding company culture and expectations can make or break an interview.
With this module you can ensure your clients are dressed for their target company interviews. In this module we will cover:
First Impressions - it's so much more than just clothing.
Targeted Attire - dress for the company, the culture, and the job level.
Attire Do's and Don'ts Handout - handy checklist of what works and what doesn't across the board for job interviews.
It is not enough to have scripted answers to key questions. Your clients need an actual methodology they can apply to almost all questions to provide hard-hitting interview answers that make them stand out in a positive way.
In this module we will cover:
How to be a Sesquipedalian - foundation for having concrete answers that paint pictures with powerful, tangible specifics.
Baseball Strategy for Answering Questions - step-by-step strategy using a baseball diamond to hit a home run answer instead of a pop up. (You don't have to enjoy baseball to see how easy this is for clients to grasp and apply over and over).
Understanding and meeting employer expectations is critical in the interview. In this module we will cover:
What Employers are Looking For - show clients exactly what they need to bring to the table to impress interviewers.
Self Analysis - perform self-assessment with effective strategy and a checklist.
SWOT Analysis - apply this effective quadrant strategy to evaluate client strengths, weaknesses, opportunities, and threats. This is a very useful tool for helping clients to create a plan-of-action for being interview and job ready. It's also a great coaching intake tool or strategy you can use for your own business.
Even the most prepared job seeker can leave a bad impression solely through word choice that can disempower otherwise positive situations. In this module we will cover:
Maximizing Your Product - positive language that sells job seekers most effectively. Learn and teach the L+M=O methodology for winning presentation every time.
Weasel Words - words and phrases that can crush an otherwise highly qualified candidate.
Personality Type and Speedreading the Interviewer - great tool for matching answer delivery to the interviewer's style.
Just as important as what job seekers say is how they say it. This is where body language will determine how believable the candidate is during the interview. In this module we will cover:
Body Language: What Are You Really Saying? - client quiz and content to make sure that body language reflects a positive, confident style.
Everybody needs an elevator speech in life, but it becomes an all-important foundation for answering all sorts of "tell me about yourself?" questions in the job interview. In this module we will cover:
Definition of a 30 Second Commercial / USP - what it is and why your clients need it.
Four Styles of Commercial - networking version, three-step qualification inversion, proactive product brand, and succinct two sentence advantage.
You've learned the baseball strategy for answering questions, but now you need the science behind why each core question is asked and what the target response should be.
This module will give you the foundation for what I call the Latin Root Questions. When your clients can answer these, they can answer all questions. In this module we will cover:
Types of Questions - science, strategy, and examples for the following types of questions: enthusiasm, self-direction, communication, success-orientation, flexibility, and responsibility level.
Fun Information - ice breaker stories to share with your clients to put them at ease.
This section is so critical because clients need to examine their challenges and areas that could hurt them before the interview. They need a bright and shining POV and the understanding of what employers are looking for (reasons to rule them out). It all comes down to preparation!
When clients are prepared for the 'bad stuff' to come up, they can come out of it in a positive light. In this module we will cover:
Dealing with Illegal or Difficult Questions - they are going to happen, so here's what job seekers need to know to prepare.
Types of Illegal Questions - understand and respond to illegal questions in a tactful and non-aggressive (or destructive way).
Disability Questions - what to say/do when these are asked to avoid an uncomfortable situation.
Incarceration / Criminal Record - ways to still have a chance with addendums, references, and positive responses.
Employment Termination - turn a negative into a positive and don't let embarrassment derail clients.
Employment Gap / Spotty Work History - confident approaches to less-than-stellar work histories.
Age Discrimination - strategies in language, body language, answering, and presentation that crush this.
Under- or Over-Qualified - see how it's all in the interview strategy.
No College Degree - ways to confidently present without a college degree.
It's time for the baby bird (your client) to leave the nest. To make sure they fly right, they need to know what to do now that the interview is scheduled. In this module we will cover:
Interview Dry Run - often overlooked steps to ensure your client is ready for the big day and will avoid any speed bumps.
What to Bring to the Interview - process and checklist for all-important items your clients need to take with them to the interview. These will also give them an edge and confidence.
When to Arrive - timing is everything as you can be too early or too late.
Introductions - who your clients meet and how they treat them will set the stage for the interview.
The One-On-One Interview - walk-through of this interview model.
Questions to Ask the Employer - clients will leave selfish 'what's in it for me?' questions when they prepare in advance with a list of targeted questions. This shows how you don't have to memorize and can actually use a written list to appear savvy and prepared.
Closing the Interview - ways your clients can exit the interview demonstrating interest and armed with knowledge of next steps.
Alternative to the Traditional Interview: Take Control - when the interview goes askew, how to bring it back on track.
Prepare a PowerPoint Presentation - visual ways job seekers can stand out from the pack.
Ask for a Problem - hands on ways job seekers can show vs. tell, when speaking may not be a strength.
Get the Grand Tour - showing interest and getting into the company on a higher level.
Job seekers need to be prepared to face a variety of interview types, because one-to-one isn't always the norm.
This module gets intimate with the how-to-rock a variety of interview types. In this module we will cover:
The Stress Interview - clients won't stress the stress interview when they have a chance to prepare for it in advance.
The Good Cop / Bad Cop Interview - preparation ensures your clients won't get trapped responding to good cop/bad cop interviews.
The Panel Interview - ways to stay on top of lobbied questions from multiple interviews with ease.
The Hands-On Interview - what to do when the interview involves an activity.
The Wear You Down All Day Interview - steps for staying fresh, positive, and consistent in all-day interviews with multiple interviewers.
The Cattle Call Interview - steps to stand out in the crowd and maximize this group interview.
The In-Box Exercise - what it is and how to perform.
The Long Distance Interview (Travel) - bloopers to avoid to have a positive long-distance travel-included interview.
The Videoconferencing Interview - easier today than in the past, but still tricky in regards to what to wear, where to look, etc.
The Virtual Bot Interview - yes, artificial intelligence has entered the interview scene!
Chat-Based Interviews - this is gaining popularity with recruiters and has its benefits.
The Lunch Interview - what to do and not do to nail a lunch interview.
The Interactive or Fishbowl Interview - get down to what employers want and how to respond to this type of interview.
The Puzzle Interview - typically reserved for technical interviews, this type of interview has a unique strategy and some critical elements to master.
It's not uncommon for employers to want to peek beneath the shiny presentation at the interview. So, it's critical to prepare your clients for checks and tests that can come up in the screening process. In this module we will cover:
Overview + Application Addendum - steps to prepare clients with an addendum if something is going to come up in a check.
Background Checks - reasons for background checks, investigated issues, what employers can't check, confidential records, employer reference checks, notice of a background check, how to prepare, and how to respond to bad news.
Drug Testing - typical tests, hair testing, false positives, and what to do.
Once the interview is over, the work and strategy doesn't end there. Job seekers need to continue to make a positive impression, and their follow up can make or break a great interview (or even save a lousy one). In this module we will cover:
Follow Up - why, how, and when to successful follow up.
Thank You / Follow Up Letters - contents and key points for making interviewers remember clients, and for overcoming less-than-stellar interviews. (It's not too late to turn a bad interview around).
Alternatives to the Traditional Letter - steps to take that go above-and-beyond the letter to earn brownie points for candidates in the selection process.
What's Next - waiting, follow up, and the squeaky wheel.
The offer has been made, so now what? In this module you will learn how your clients can walk away with the best offer possible in a win-win strategy. In this module we will cover:
The Dreaded Question - effective salary survey and self-pricing.
Dissecting the Offer - considering primary benefits as well as additional perks and benefits.
Negotiation and Offer Evaluation - the how-to of negotiating an offer on the table, and how to evaluate it with a handy checklist.
Multiple Offer Comparison Chart - chart designed to review and compare two offers simultaneously.
Employment Contracts - when they come up and how to make sure they are favorable.
Who should take this certification course?
Anyone who wants to be able to educate clients (and even employers) in interviewing and salary negotiation. This includes Transition Specialists, Placement Specialists, Resume Writers, Career Coaches and Counselors, Job Developers, Career Industry Authors, Recruiters, and other career professionals.
What is the course timeframe?
Since it is self-paced, you can take as long as you need within one calendar year of registration. However, most students are able to easily complete the program in six weeks by committing 3-5 hours per week. There are no live class sessions to ensure you have the flexibility to work at your own pace, day or night. You will be provided with support and feedback from the course creator as your mentor throughout the program to ensure your success! Please be advised that you must maintain an active CDI membership to complete the course
This course is totally turnkey.
When you purchase this program you get IMMEDIATE access to the course materials upon registration and can get started working on earning your CEIC immediately. Your package includes instant access to many valuable and down-for you supportive materials:
All modules in PDF. Simply print them out to create your color coded manual.
Entire program in MS Word for easy reproduction of handouts, quizzes, and worksheets.
Instructions for creating attitude flags for adjusting client behaviors.
BONUS: Interviewing: The Gold Standard
You will also receive via mail one copy of Interviewing: The Gold Standard, the client companion book to the program  This 172 page book retails for $49.95. They are printed, book-store quality books and can be sold to clients or bundled in packages to truly add professional value.
Note that these can be later purchased with personalized covers that list your business information (scroll down for a closeup of the custom cover and for more information).
Note: An additional fee may be required for shipping of the sample workbook to international addresses. 
Not a Member of CDI? Membership is a prerequisite.
Non-member registration includes one year of individual membership ($347 value) to Career Directors International: Your Pathway to Success, rich with ongoing support, networking, and new information.
If you are not currently a CDI member, please select the Non-Member rate below as it includes mandatory membership.
For non-members who desire a 3-pay option, membership must be purchased first from the Member Benefits page. Afterwards, you can then select the 3-payment option above to purchase the course.
Certification Renewal
The CEIC certification must be renewed every three (3) years by purchasing the program update modules. Depending on new content, there may be 1-5 modules released at $21.95 each.
Revocation Policy
All requirements of CEIC certification, renewal, and CDI membership standards must be maintained in order to earn and retain a CDI credential. CDI reserves the right to revoke a CEIC credential for any of the following: Renewal requirements are not maintained and completed within required timelines. Membership lapses due to non-renewal. Individual is found guilty in a court of law for a grievance within the industry (unprofessional, unethical, unlawful conduct and/or business practices).

Companion Client Workbook
If you are a graduate of CDI's CEIC program, then you have the ability to purchase custom-cover copies of Interviewing: The Gold Standard, which retails for $49.95, and is great for including in your packages, 1-1 interview coaching, classes, outplacement workshops, client gifts, or individual sales!
The content goes along module-by-module with the CEIC program, so clients can follow along or be assigned activities based on the corresponding module to the CEIC program.
Plus, the full-color, glossy, custom cover creates a unique branding opportunity for your business. Sample: Custom cover content can include your name, company, address, phone, email, fax and website URL. Sorry, no logos or graphics.
There is a 1-time $15 setup fee with your first order. Proofs will be sent for your approval.
Interviewing: The Gold Standard is available for wholesale at $12.95 + shipping. For quantities of 35 or more, discounts are available. To request a quote, please send the number of copies you would like to purchase, your mailing address, and phone number to info@nullcareerdirectors.com.